East Northport Table Tennis is a facility with 3 tables. It is located under my home in East Northport. I built this room for the sole purpose of playing and training for table tennis (see the video in the lower-right corner of this page).
The room is 1500 square feet, has 12 foot ceilings, has a hardwood floor, and it is fully climate controlled. There are no support columns to obstruct play.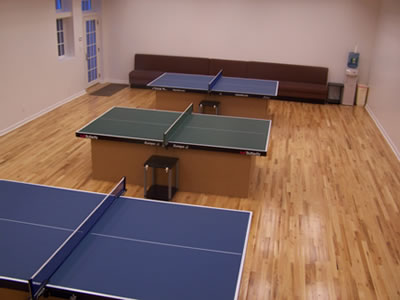 Address
6 Markwood Lane
East Northport, NY
11731
Hours
Mon, Tue, Wed, Fri:
6 p.m. to Midnight
Sat:
8 a.m. to 7 p.m.
Cost
$5 per visit, or:
$100/year dues for children, $150/year dues to play up to two times per week, or $200/year dues for unlimited play.